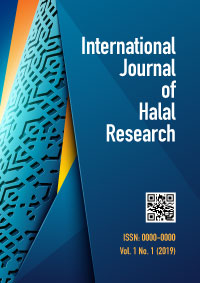 International Journal of Halal Research is a refereed academic journal that aims to comprehensively integrate dimensions of knowledge conventionally regarded as separate and strengthen the efficiency of human intellectual progress. The journal is dedicated to the integration of scientific and religious aspects of Halal research, and the promotion of universal values. While acknowledging the substantial progress that has been made in the scientific fields, the journal is committed to the idea that the search for solutions to human predicaments can be enhanced by reference to an epistemological framework that is not restricted to reason and observation alone but acknowledges the role of religion.
This journal is intended to provide a platform for research communities from different disciplines to disseminate, exchange and communicate within the Halal research scope and acts as a representation of the diverse methodological approaches to Halal research, as well as of many subfields that constitute the discipline. It also intended to encourage methodological innovation by promoting experimentation in different qualitative and quantitative research methods.
The International Journal of Halal Research covers theoretical and applied sciences as well as studies related to the integration of scientific knowledge and religion. The journal is a compilation of academic and research articles, review articles, conference reports, and abstracts that address contemporary issues within its scope.
This journal is published by the Indonesian Society for Knowledge and Human Development.
Vol 4 No 2 (2022)
This issue has been available online since 23th December 2022 for the regular issue of December 2022. All (5 original research articles) were authored/co-authored by 16 authors from 4 countries (Indonesia, Nepal, Malaysia and Saudi Arabia).
 




Published: 2022-12-15
View All Issues